Books
Each book here is available in its entirety as a single PDF, ePub or mobi file. You may download the book to read on your computer or on your mobile device or to print it. Alternatively, each book is also available as individual chapters that may be read online as HTML text messages or as PDF files.

There are currently 14 books available:

To download PDF files:
Right-click on the required book PDF link
Select 'Save Target As...' in the pop-up menu that appears.
Choose the folder to save to and click 'Save'.
Note that PDF files may take a while to open or download depending on the PDF file size and the speed of your Internet connection.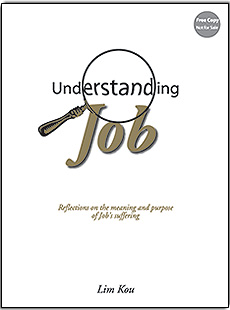 Second Edition 2011
In response to requests by readers, questions have been added at the end of each message for personal reflection and group discussion. The text is the same as the first edition.

Reflections on the meaning and purpose of Job's suffering
(ISBN: 978-981-08-9886-1)
Why did God allow Satan to afflict Job so severely?
Why did Job falter in spite of his moral and spiritual stature?
Why didn't God directly answer Job's perplexing questions?
Was Satan triumphant? Was God satisfied with Job?
Was Job a mere, helpless victim in a contest between God and Satan?
Is there meaning to the whole episode?
These are some troubling questions that confront reflective readers of the Book of Job.
Understanding Job is an attempt to answer these difficult questions. More than that, it seeks to help us understand the person Job, his state and the meaning in his heart, and how he fared before, during and after the severe trials that came upon him.
The content of this book is based on messages preached in a local Christian congregation. The underlying conviction is that the Book of Job is a very profound and meaningful book through which God desires to teach us deep truths - truths that are critical to the living of a life of whole-hearted, unwavering commitment to God.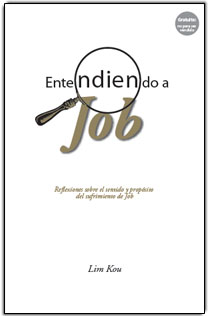 Entendiendo a Job (Spanish translation of Understanding Job)
(ISBN: 978-981-07-2224-1)
¿Por qué permitió Dios que Satanás afligiera a Job tan severamente?
¿Por qué flaqueó Job a pesar de su estatura moral y espiritual?
¿Por qué Dios no le respondió directamente a Job sus desconcertantes preguntas?
¿Estaba ganando Satanás? ¿Estaba Dios satisfecho con Job?
¿Era Job tan solo una simple e indefensa víctima en una competencia entre Dios y Satanás?
¿Tiene algún sentido todo este episodio?
Éstas son algunas de las inquietantes preguntas que enfrentan los que leen de manera reflexiva el libro de Job.
Entendiendo a Job es un intento de dar respuesta a esas difíciles interrogantes. Más que eso, trata de ayudarnos a entender la persona de Job, su condición y el sentido en su corazón; y cómo le fue antes, durante y después de las pruebas severas que vinieron sobre él.
El contenido de este libro se basa en mensajes predicados en una congregación cristiana local. La convicción que aquí se encierra es que Job es un libro muy profundo y de amplio significado, mediante el cual Dios desea enseñarnos profundas verdades - verdades que son importantísimas para tener una vida de compromiso sincero e inquebrantable con Dios.
Yorbav Daefzir-euq Garkawv (Akha translation of Understanding Job)
(ISBN: 978-981-07-2832-8)
Miqyaer aqjeq ghae-eu naef Saqdaq nae Yorbav-anr teunav nav-aer bikhaeq-euq la?
Yorbav guiqlanq saflarpaw ghaq teunavni khav-eu, aqjeq mirnae aqjox-aer ghaq baq-ir-euq la?
Aqjeq mirnae, Miqyaer, Yorbav zanqler-awr narhaq-eu dawq-anr maqaer khofnaeq-euq la?
Naef Saqdaq ghaqler-euq lalaq?
Miqyaer nuikhanr shirmae laq?
Yorbav-aq, tiqjeq-iq maqjanr nya-eu Miqyaer & naef Saqdaq aqmui mui-eu jeq pyeuf-eu taefla laq?
Yorbav-euq garkawv-anr hawngae dzawgeuf-eu jeq anrmae laq?
Yorbav Sanqbof gui-eu tsawrhaq deuq-euq nuima lafkhoer narhaq-eu dawq heudeuq narhaq larnya-eu mae.
Yorbav Daefzir-euq Garkawv sanqbof heudmq-aq, narhaq-eu dawq heudeuq-anr aerkhof-awr, Yorbav kandui dui-eu shaqzanq yadaq-eu maeqhu, daqluf ngae hawr-eu daqghaq-euq gar hawngae, aqjerjeq mawrlar ngalaer povtser taq-euq ma.
Sanqbof heudmq lafkhoer boftaq-euq jeq-aq, Kalizaq armur-anr maeq-euq Yorbav sanqbof-anr nae dzawgeuf paq-aer ghae-eu deuqmae. Aqdui daefzir dawqtawvluf Miqyaer-anr lawrnaeq a'naeq jir-awr maqpov maqpar larni daef-eu gharduq—Miqyaer, aqdui-anr nafdui dui-eu yawtsaq yawdawr heudeuq bidzaw geufmawf-eu mae.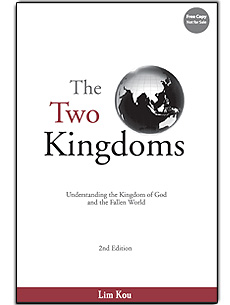 Second Edition 2011
In response to requests by readers, questions have been added at the end of each message for personal reflection and group discussion. The text is the same as the first edition.

Understanding the Kingdom of God and the Fallen World
(ISBN: 978-981-07-0608-1)
As Christians, it is important for us to understand the fundamental issues of life from a biblical perspective. What is of primary importance to the Lord? What is the meaning and purpose of our time on earth? How can we live well as citizens of heaven in a fallen world? What is true success and how can we live a successful life?
The Two Kingdoms seeks to draw answers from the Scriptures to these key questions. It considers various important issues pertaining to the kingdom of God and the fallen world to help us grasp the true meaning of our earthly existence and the values, perspective and approach in life we should adopt.
This compilation of eight messages can help you discover in a deeper measure the meaning and joy of living in and for the kingdom of God.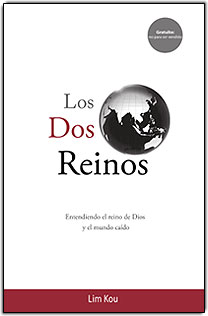 Los Dos Reinos (Spanish translation of The Two Kingdoms)
(ISBN: 978-981-08-7882-5)
Como cristianos, es importante que entendamos los asuntos fundamentales de la vida a partir de una perspectiva bíblica. ¿Qué es de principal importancia para el Señor? ¿Cuál es el sentido y propósito de nuestro tiempo en la tierra? ¿Cómo podemos vivir en un mundo caído siendo ciudadanos celestiales? ¿Cuál es el verdadero éxito y cómo podemos vivir una vida exitosa?
Los dos reinos trata de extraer de las Escrituras respuestas a estas interrogantes. Este libro analiza varios asuntos importantes relacionados con el reino de Dios y el mundo caído, para así ayudarnos a asimilar el verdadero sentido de nuestra existencia terrenal y los valores, la perspectiva y el enfoque que deberíamos adoptar en la vida.
Esta compilación de ocho mensajes puede ayudarte a descubrir de una forma más profunda el sentido y el gozo de vivir en y para el reino de Dios.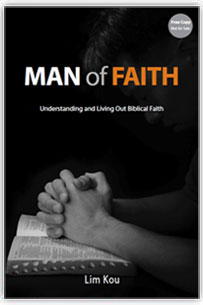 Understanding and Living Out Biblical Faith
(ISBN: 978-981-08-3258-2)
It delights the heart of God when His children learn to truly walk by faith. But just what is true faith and how does one live by faith? Does having faith mean believing in the unseen? Does it mean believing without good reason and acting without understanding? Does it mean believing in something sincerely and firmly, with the preparedness to act on it? Why do we have to live by faith to gain God's approval? Where does faith come from and how does it grow? How can we exercise faith when we feel spiritually dry and God seems far away? Many may find this subject mysterious, difficult to understand and confusing. Misconceptions abound.
This collection of eight messages can contribute to an understanding of what biblical faith is, and how one can maintain unwavering faith and a heart on fire for God under all circumstances.
TAONG may PANANAMPALATAYA (Tagalog translation of Man of Faith)
(ISBN: 978-981-11-4320-5)
Nasisiyahan ang puso ng Diyos kapag ang Kanyang mga anak ay natutong tunay na lumakad sa pamamagitan ng pananampalataya. Ngunit ano ba talaga ang tunay na pananampalataya at paano ba mamumuhay ang isang tao sa pamamagitan ng pananampalataya?
Ang pagkakaroon ba ng pananampalataya ay nangangahulugan ng paniniwala sa hindi nakikita?
Nangangahulugan ba ito ng paniniwala nang walang maayos na dahilan at pagkilos nang walang pagkaunawa?
Nangangahulugan ba ito ng paniniwala sa isang bagay nang totoo at matatag, na may kahandaang kumilos ayon dito?
Bakit kailangan natig mamuhay sa pamamagitan ng pananampalataya para magtamo ng pagsang-ayon ng Diyos?
Saan nanggagaling ang pananampalataya at paano ito lumalago?
Paano natin mapapagana ang pananampalataya kapag ang pakiramdam natin ay tigang tayo sa espiritu at ang Diyos ay tila malayo?
Para sa marami ang paksang ito ay maaaring mahiwaga, mahirap maunawaan at nakakalito. Sa paksang ito ay napakaraming maling pagkaunawa.
Ang kalipunan ng walong mga mensaheng ito ay maaaring makatulong sa pagkaunawa kung ano ang pananampalatayang naaayon sa Bibliya, at kung paanong ang isang tao ay makakapagpanatili ng hindi nagmamaliw na pananampalataya at isang pusong nag-aalab para sa Diyos sa lahat ng mga pagkakataon.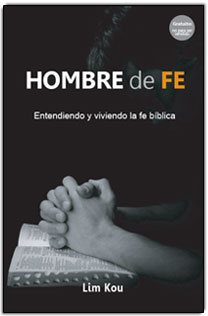 Hombre de Fe (Spanish translation of Man of Faith)
(ISBN: 978-981-07-2223-4)
Dios se deleita en lo profundo de Su corazón cuando Sus hijos aprenden a caminar verdaderamente en fe, pero... ¿qué es realmente la verdadera fe y cómo podemos vivir por fe? ¿Tener fe significa creer en lo que no vemos? ¿Acaso significa creer sin una buena razón y actuar sin entendimiento? ¿Significa creer en algo de manera sincera y firme, con la disposición de actuar en consecuencia? ¿Por qué tenemos que vivir por fe para obtener la aprobación de Dios? ¿De dónde surge la fe, y cómo se desarrolla? ¿Cómo podemos ejercitarla cuando nos sentimos secos espiritualmente y Dios parece estar muy lejos? Puede que muchos consideren que este tema sea misterioso, difícil de entender y confuso; al respecto abundan las interpretaciones erróneas.

Esta colección de ocho mensajes puede contribuir al entendimiento de lo que constituye la fe bíblica, y a cómo podemos mantener la fe inconmovible y el corazón ardiendo para Dios bajo cualquier circunstancia.
A biblical understanding of true strength
(ISBN: 978-981-09-0115-8)

Christians must be on guard against the enticements of worldly strength and power and, at the same time, recognise that God wants us to be truly strong.
What does it mean to be truly strong?
Why is it important to be truly strong?
What is the relationship between being truly strong, how well a person is faring, and the fulfilment of God's purposes?
How can we become truly strong?
Many Christians are attracted by manifestations of spiritual power. Is this good or bad? What dangers do we need to be mindful of in such contexts?
Is the manifestation of spiritual power in and through a person's life an indication that this person is truly strong?
This book can contribute towards a wholesome understanding of these issues and how God's children can become truly strong, firmly grounded in the Scriptures and in a deep personal relationship with God.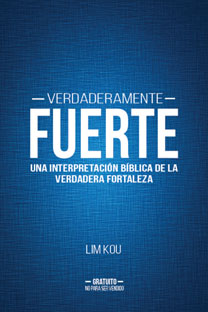 UNA INTERPRETACIÓN BÍBLICA DE LA VERDADERA FORTALEZA
(ISBN: 978-981-09-5257-0)
Los cristianos debemos estar alertas contra los incentivos de poder y de fuerza que el mundo exalta y, a la vez, reconocer que Dios quiere que seamos verdaderamente fuertes.
¿Qué significa ser verdaderamente fuerte?
¿Por qué es importante serlo?
¿Cuál es la relación entre el ser verdaderamente fuerte, el hecho de cuán bien le va a una persona, y el cumplimiento de los propósitos de Dios?
¿Cómo podemos convertirnos en personas verdaderamente fuertes?
Muchos cristianos se sienten atraídos por las manifestaciones de poder espiritual. ¿Es esto bueno o malo? ¿Cuáles son los peligros que necesitamos tener en cuenta en tales contextos?
¿Es la manifestación de poder espiritual, en y a través de la vida de una persona, una indicación de que esta persona es verdaderamente fuerte?
Este libro puede contribuir a una comprensión sana de estos temas y a cómo los hijos de Dios pueden llegar a ser verdaderamente fuertes, firmemente cimentados en las Escrituras y en una profunda relación personal con Dios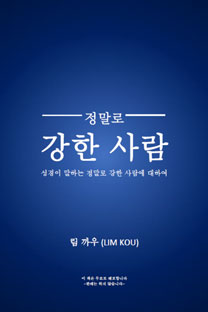 성경이 말하는 정말로 강한 사람에 대하여
(ISBN: 978-981-09-5981-4)
그리스도인들은 세속적인 힘과 권력이라는 유혹에 넘어가지 않도록 조심하고 경계해야 한다. 동시에 우리가 정말로 강한 사람이 되기를 하나님이 원하신다는 사실을 알아야 한다.
정말로 강한 사람이란 어떤 사람인가?
정말로 강한 사람이 되어야 하는 이유는 무엇인가?
정말로 강한 사람이 되는 것과 잘 살아가는 것과 하나님의 목적을 성취하는 것 사이에는 어떤 관계가 있는가?
어떻게 하면 정말로 강한 사람이 될 수 있는가?
영적인 능력이 외적으로 드러나는 현상을 보고 마음을 빼앗기는 그리스도인들이 많이 있다. 그렇게 매료되는 것이 좋은 것인가? 아니면 나쁜 것인가? 그런 현상이 일어날 때 우리는 어떤 위험들에 유념해야 하는가?
한 사람의 삶 속에서 또는 그 사람의 삶을 통해 영적인 능력이 드러날 때 그것은 곧 그 사람이 정말로 강한 사람이라는 사실을 보여주는 것인가?
이 책은 이런 이슈들을 건전하게 이해하는데 도움이 될 것이다. 그리고 하나님의 자녀들이 성경에 근거를 두고 하나님과 개인적인 교제를 깊이 나누면서 어떻게 하면 정말로 강한 사람이 될 수 있는지를 알아가는 데 도움이 될 것이다.
Truly Rich and Great
(ISBN: 978-981-11-0290-5)
Many people in the world are preoccupied with the pursuit of material riches and worldly fame, status and greatness. They regard these as important goals in life and see how one fares in these areas as indicators of success. Such worldly pursuits are futile, bring no true fulfilment and ruin many lives. God's children must guard against such preoccupations and pursuits. At the same time, they have to recognise that being truly rich and great is extremely precious and of enduring value.
It is crucial for believers to see clearly the biblical teaching on these important issues. How we understand these areas and what we are committed to will have a direct bearing on our personal relationship with God, our growth in moral and spiritual stature, and how effectively we participate in the fulfilment of God's purposes.
May this book contribute towards a wholesome understanding of these issues. May it help God's children to be truly rich and great in His kingdom.
Verdaderamente Rico y Grande (Spanish translation of Truly Rich and Great)
(ISBN: 978-981-11-4986-3)
Muchas personas en el mundo están preocupadas con la búsqueda de riquezas materiales, fama, estatus y grandeza según los criterios del mundo. Para ellos éstas son metas importantes en la vida y consideran que alguien es exitoso según su desempeño en estas áreas. Tales búsquedas mundanas son triviales, no traen verdadera realización y arruinan muchas vidas. Los hijos de Dios deben protegerse contra semejantes preocupaciones y búsquedas. Al mismo tiempo, deben reconocer que ser verdaderamente rico y grande es sumamente precioso y de un valor perdurable.
Resulta crucial que los creyentes comprendan con claridad la enseñanza biblica sobre estas importantes cuestiones. Nuestra compresción de estas áreas y a que nos dedicamos influirá directamente en nuestra relación con Dios, en nuestro crecimiento moral y espiritual y en la efectividad de nuestra participación en los propósitos de Dios.
Que este libro contribuya a una comprensión sana de estas cuestiones. Que ayude a los hijos de Dios a ser verdaderamente ricos y grandes en Su reino.
Tunay Na Mayaman at Dakila (Tagalog translation of Truly Rich and Great)
(ISBN: 978-981-14-1075-8)
Maraming mga tao sa daigdig ang abala sa paghahangad ng materyal na kayamanan at makasanlibutang katanyagan, mataas na katayuan at kadakilaan. Itinuturing nila ang mga ito na mahalagang mga layunin sa buhay at tinitingnan kung paano nakakaagapay ang isang tao sa mga larangang ito bilang mga palatandaan ng tagumpay. Ang ganoong makamundong mga hangarin ay walang saysay, hindi nagdudulot ng tunay na kasiyahan at sumisira ng maraming mga buhay. Dapat mag-ingat ang mga anak ng Diyos laban sa ganoong mga pinagkakaabalahan at mga hangarin. Gayundin, dapat nilang kilalanin na ang pagiging tunay na mayaman at dakila ay lubas na itinatangi at may halagang hindi nagbabago.
Kailangan para sa mga mananampalataya na makita nang malinaw ang itinuturo ng bibliya tungkol sa mahalagang mga isyung ito. Kung paano natin nauunawaan ang mga larangang ito at kung ana ang pinaglalaanan natin ng ating mga sarili ay magkakaroon ng tuwirang kinalaman sa ating personal na relasyon sa Diyos, sa ating paglago sa moral at espiritwal na kalagayan, at kung paano tayo epektibong nakikilahok sa katuparan ng mga layunin ng Diyos.
Nawa ang aklat na ito ay mag-ambag tungo sa isang makabuluhang pagkaunawa ng mga isyung ito. Nawa ay makatulong ito sa mga anak ng Diyos na maging tunay na mayaman at dakila sa Kanyang kaharian.